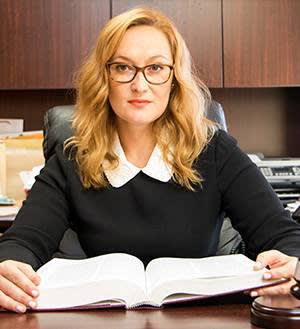 Attorney Galina Feldman, Esq. graduated from New York Law School and is admitted to NY Bar, as well as Federal Courts of the Eastern and Southern Districts of New York. Galina Feldman, Esq has extensive experience in complex Immigration matters, Matrimonial and Divorce cases, and general Litigation.
Ms. Feldman has successfully represented hundreds of clients in Supreme, Federal, Civil, and Family courts of New York, as well as Immigration Courts of New York, Massachusetts, and Florida. In fact, Attorney Feldman has litigated numerous divorce, child custody, and visitation cases, from inception to trial, including high-profile cases involving numerous assets, businesses, and professional licenses. Galina Feldman, Esq vigorously represents her clients, with special attention to all critical aspects in divorces, child support and custody cases, visitation, and paternity hearings. Ms. Feldman is also very skillful and knowledgeable in drafting and negotiating pre and post-nuptial agreements, separation agreements, and divorce agreements.
Ms. Feldman is a passionate litigation attorney with substantial courtroom and trial experience, who fights for her clients and their rights!
Prior to becoming an attorney, Ms. Feldman worked in the banking and lending field after receiving her Bachelor's Degree in Finance from Touro College in NY.